With the new year about to start, many of us will evaluate our lives and routines to see what works and doesn't. For the Christian, hopefully this will include considering how we're doing with our spiritual disciplines (Prayer, Bible Reading, Scripture Reflection, Worship, etc.). I don't know about you, but I struggle to find a good rhythm for reading the Bible. Many of the pre-made plans available on the internet require reading multiple chapters a day, with the goal of reading the entire Bible in a year. For many of us, this may be unattainable and leave us feeling discouraged when we get behind or can't keep up.
For this reason, I made an iOS Daily Reading App and a web-based Chronological Bible Reading Plan Generator.
For some more encouragement on Bible reading, see this article "Marry the Bible" from Desiring God.
Option 1: iOS App
The app gives you more options than the generator below.
Read Daily helps you easily create a Bible reading plan that suits your needs. 

You can read chronologically, in book by book order, only certain books, or even enter your own list of passages.

Choose the days of the week you wish to read on and how many chapters you'd like to read each day.

Optionally add in a chapter from the OT, NT, Psalms, or Proverbs each day.

You can read the Bible text in the app, or passages can open in the YouVersion Bible app or NET Bible app.

There's also a night mode, and you'll get a notification in the morning and evening on the days you have reading to do.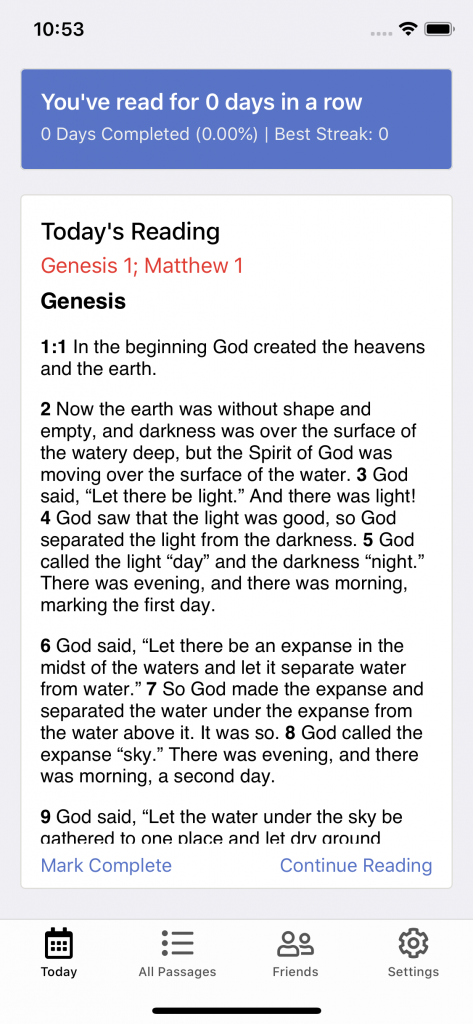 Option 2: PDF Generator
You can choose how many days a week you want to read, how many chapters a day, and if you want to go through the NT along with the OT. Then, it will give you a PDF you can download or print with the schedule and boxes to check off as you go. You can use it below to make your own plan!